In this dry separation toilet, the toilet seat and the collection tank form one unit – the feces container is located in the toilet seat. The TTC HOLZ is placed on an existing dry floor.
The sturdy and decorative toilet seat is made of solid wood (three-layer board). Under the toilet seat is the urine separation and collection container made of environmentally friendly plastic (PP).
The rectangular 25 liter feces collection container is sufficient for the use of one person for about four weeks. The container can be removed from the side (right or left) or from behind. The enclosed container lid can be put on as a visual cover.
The urine drain is led out of the toilet as a hose on the back wall and can be connected to a urine canister, a urine tank or to the waste water pipe.
A small fan (12V, 0.5W) is installed in the toilet seat. This creates a small air flow into the toilet. This makes the toilet odorless and insect-free. Also on the back wall is the connection of the vent pipe. This is led directly to the outside or over the roof with commercially available pipe (DN75).
The solid excrements and toilet paper are collected in the feces collection tank. No litter is added per use. The materials are hardly visible through the black collection container. A layer of litter about 5 cm thick is added to the emptied collection container (before reinsertion). Cleaning of the collection container after emptying is not necessary.
The TTC HOLZ can be ordered from our shop as a complete ready-made unit or as a do-it-yourself kit. The necessary accessories such as a urine canister can also be obtained from us.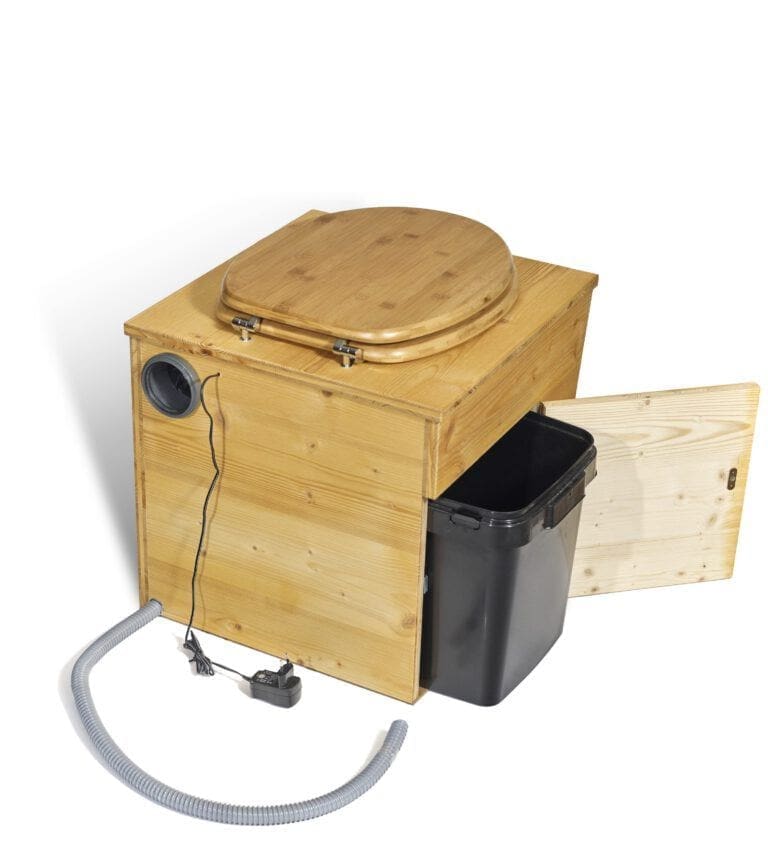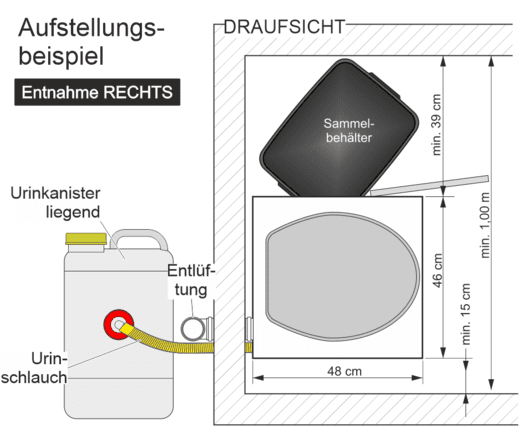 The TTC HOLZ should be placed in a dry room, without soil moisture. The minimum room width is one meter. With two angles and screws (not included), the toilet can be fixed to the floor at the back. The toilet can also be placed in a separate toilet house.
The urine drain and the vent outlet are located at the back as standard. If desired, these can also be led out of the side of the toilet.
The surfaces are delivered oiled and should be further treated.
Follow the operating instructions.