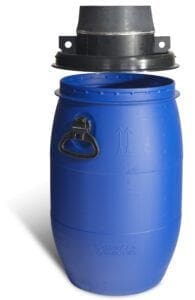 We also have a less expensive alternative to our GOLDGRUBE®. We call this the barrel solution and it is based on one or more wide-necked barrels with a converted lid and our dry separation toilet. This version is mainly for buildings that have a basement or similar. However, the barrel solution has a higher "maintenance cost" to the GOLDGRUBE® because the barrels have a smaller volume. Depending on the barrel volume, different ceiling heights are required. On this page you can see some examples of how we have already installed the barrel solution, also over different floors.
The fecal tank, as a wide-necked barrel is located under the TTC MINERAL (e.g. basement). The vertical downpipes are connected airtight with the barrel and due to the permanent ventilation the toilet room as well as the cellar room is odor-free.
Feel free to contact our sales department:
Mobil: +49 172 927 95 93 or E-Mail: beratung@abereus.de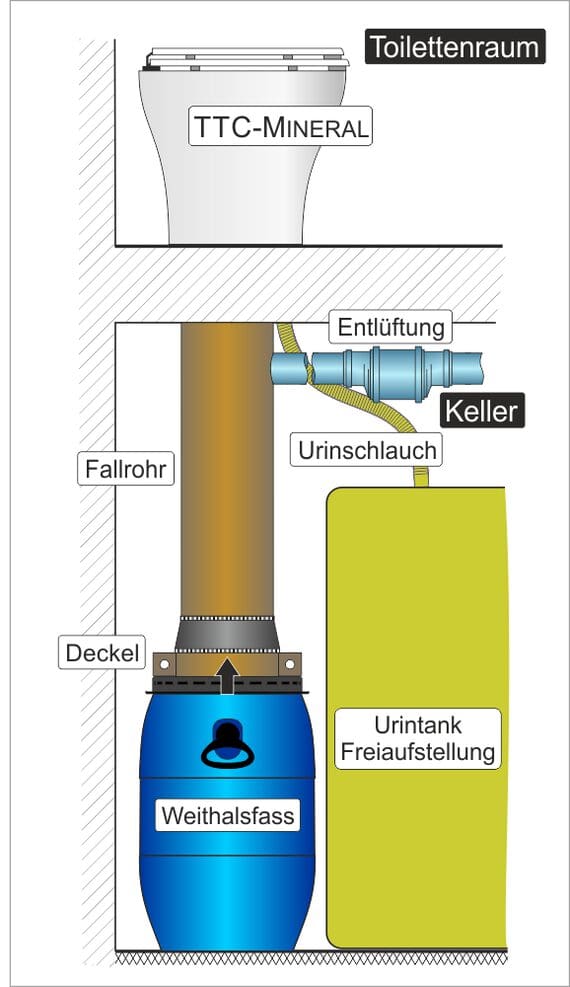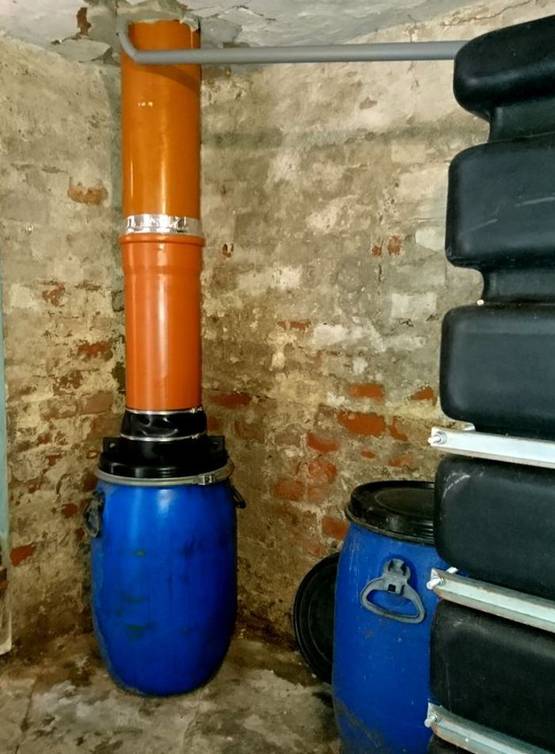 Important additions to the barrel solution
There are two main general options when leaving the vent: Basement or toilet room. If the vent is connected in the toilet room, the dry separation toilet is connected directly, while otherwise the vent is connected in the basement. Our dry separation toilets are designed so that both versions are possible. We have also provided instructions here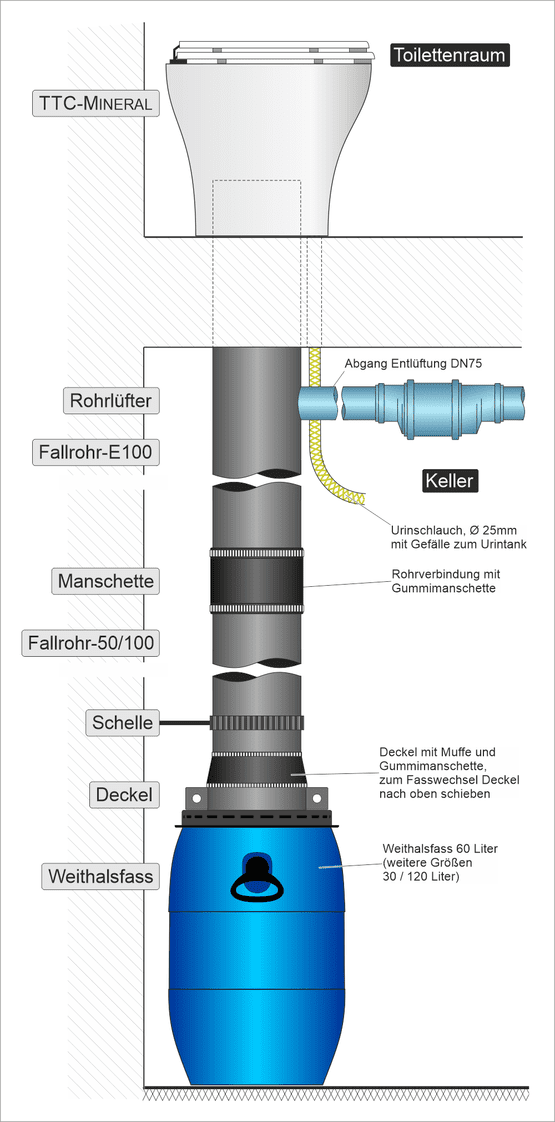 Ventilation in the toilet room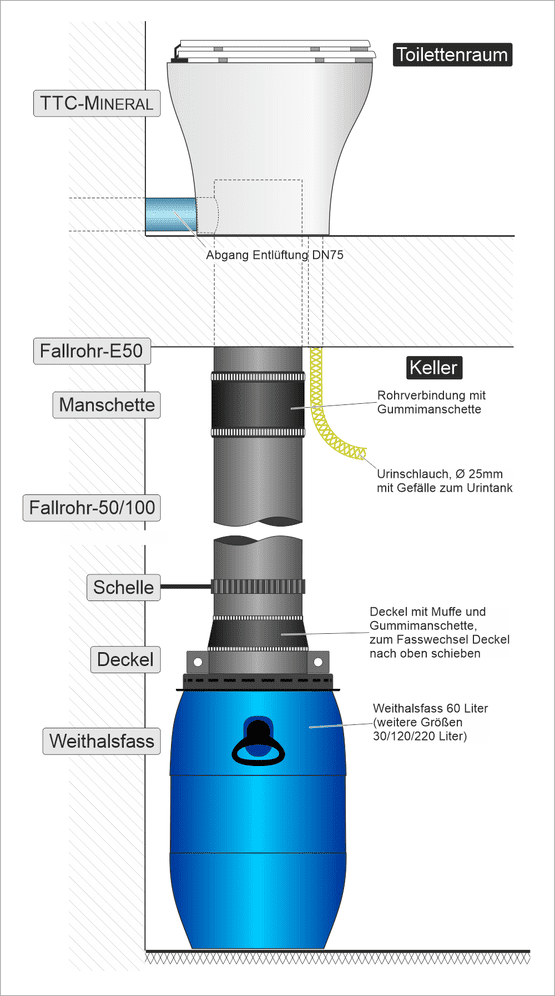 The standard 60 liter barrel is sufficient for use by one person for 9-12 months, and for high numbers of users, a barrel solution with larger volumes up to 120 liters is also possible. The barrels (especially >60 liters) can be moved with flat barrel rollers with little effort. Depending on the size and addition, appropriate minimum room heights in the cellar are necessary. The illustration shows different options and you can get all of them in our store.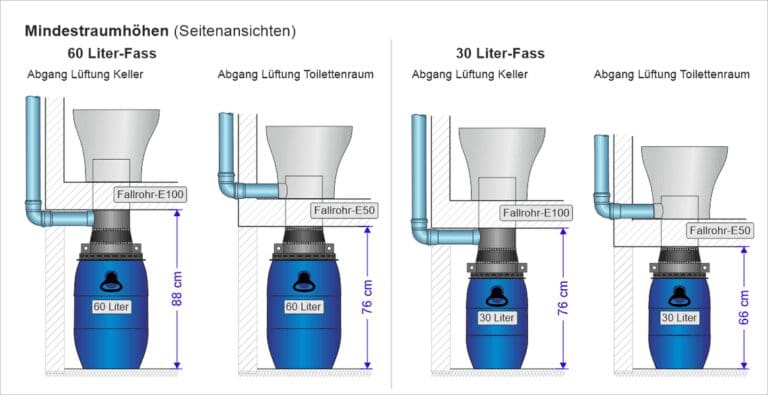 Barrel exchange and emptying
If you push the "lid" with the rubber sleeve up about 5 cm, you can simply exchange the full wide-necked barrel for an empty one. A full barrel can be stored closed and cool for up to a year and so you do not have to empty so often even with the barrel solution.
The barrels are emptied by means of a usual suction vehicle or at an appropriate place of the waste water association. Self-use (composting, biogas plant, etc.) may also be possible, depending on the country, but should be approved by the local authorities.
As a urine tank use either a free-standing basement tank or an underground tank outside the building, and to this you can also connect several dry separation toilets.
Installation of dry separation toilets over two floors
When installing several dry separation toilets, even over several floors, each toilet is connected to a fecal barrel with its own downpipe. This requires the two toilet stalls to be slightly offset from each other, so that the two barrels can be placed next to each other in the basement. It is also possible to connect such an option to a GOLDGRUBE®.